Frankly speaking, finding English speaking jobs in Germany is not that difficult especially if you are looking for a job in the IT industry.
As always, I will guide you through the process of finding English speaking jobs in Germany using my favorite platform – LinkedIn.
As per my research, there are two ways you can find English-speaking jobs in Germany using LinkedIn. Let me explain each one of these to you.
1. Connect with recruiters directly on LinkedIn
Let me ask you one question. How many conections do you have on LinkedIn?
Is your answer – Less than 500?
I am pretty sure that 90% of the readers of this post would say that they have less than 500 connections on LinkedIn.
If you are one of them, then it is time to work on improving this number.
Having more relevant connections on LinkedIn is directly proportional to the chances of you getting hired for a job.
LinkedIn's founder – Reid Hoffman says:
A strong network is more important to career success than a detailed plan
Let's focus specifically on making connections with recruiters who can help you find an English speaking job in Germany.
How to find recruiters?
Often we miss the fact that companies outsource their recruitment process to external recruitment agencies.
These agencies are always looking for top talents that match the criteria given by the hiring company itself.
So, it is equally important to connect with the recruiters from these hiring agencies as well.
Let me show you how you can find and connect with such recruiters.
Steps to find recruiters on LinkedIn
On the LinkedIn search bar, enter the technology or language for which you want to find the job.
Add the term – "Recruiter" towards the end of the search text.
On the first search filter, select "People"
On the location filter, select "Germany"

Once you perform a search based on the above suggestion, you will see some results on the same page.
In my case, I got 28,000 results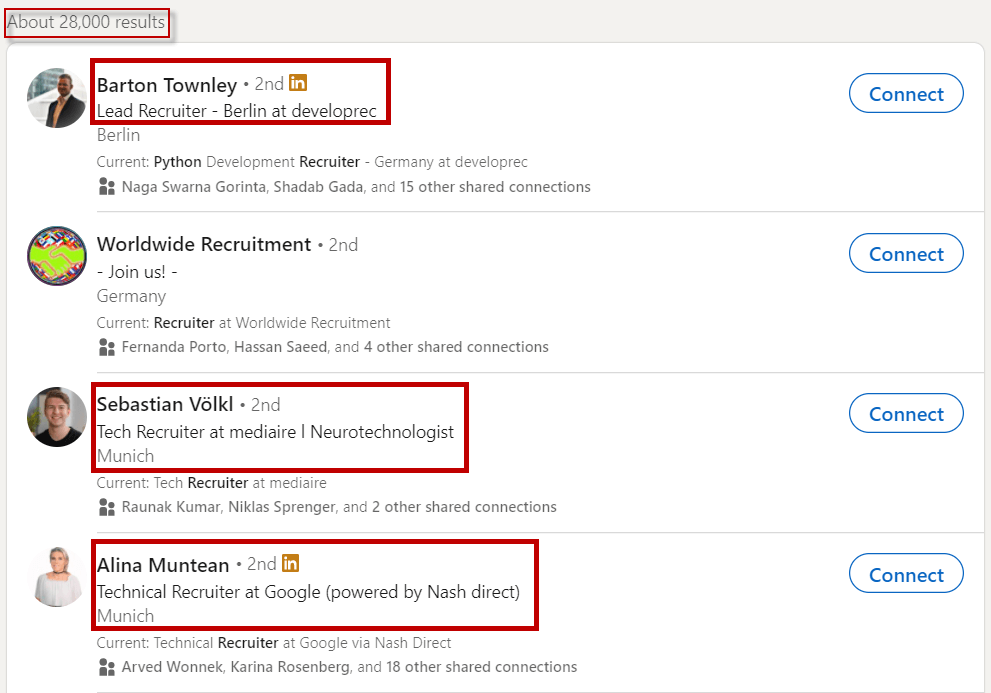 If you look at the results that I have highlighted, then you can clearly notice that these are real people with recruiter titles on their LinkedIn profile headline.
Go ahead and send them a connection request one by one.
Please make sure that you don't send too many connection requests in one day. If you do, then LinkedIn might suspend or even block your account.
The ideal number of connection requests that you can send in a day without getting blocked by LinkedIn is 15.
Once your connection request gets accepted, start with a simple yet professional conversation.
Let them know that you are open to positions across Germany within your domain.
I will soon publish another post, wherein I will share with you sample message templates that can be used to initiate a conversation with the recruiter.
If you continue this for the next 30 days, you will end up with 450 new connections.
The best part is that all of these 450 connections are recruiters who could sooner or later hire you for English speaking jobs in Germany.
Lets now look at the second method of finding English speaking jobs in Germany
2. Search for English speaking jobs in Germany yourself
This method of finding English speaking jobs in Germany is easier than the first method.
The only thing you have to do is to search for the jobs with the correct filters and then apply to these jobs.
The catch is to apply to only those jobs where German language is not mandatory.
Let us see an example and understand the process.
Steps to search for English speaking jobs on LinkedIn
1. Search for the language or the job title for which you want to find English speaking jobs in Germany.
2. Click on the "jobs" filter to see only the job posts.
3. Apply the "location" filter as Germany or even a specific city in Germany.

Once you hit the search, you will end up with 100s or even thousands of results showing you all the jobs that matches the criteria mentioned above.
Click on one of the job results to see its details.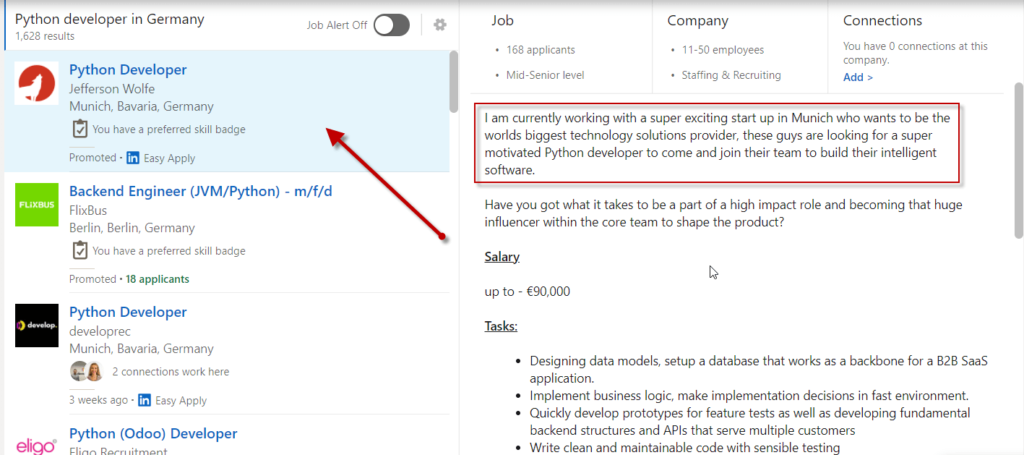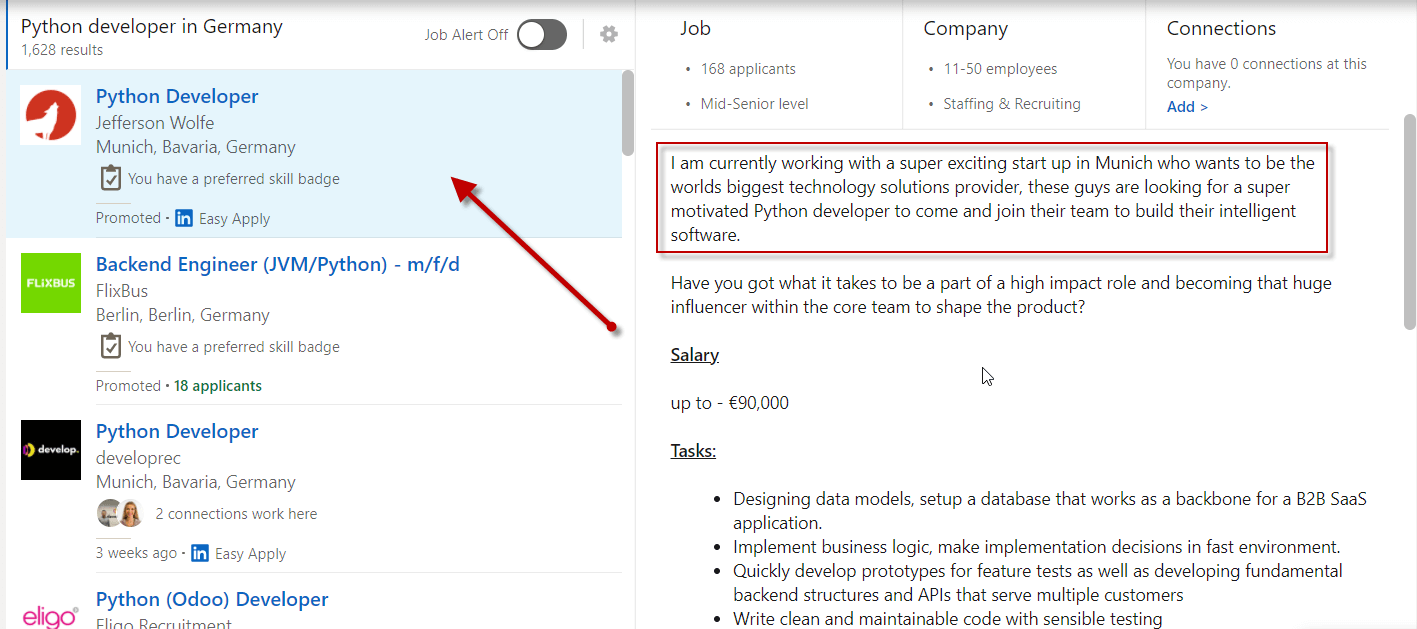 Continue reading the job detail and see if the detail is in English or German.
If the job detail is in German, then you know that you aren't a good fit as the chances are that the recruiter is looking for a German-speaking candidate.
If the job detail is in English, then look for the term "German" in the job description.
You can do a quick search on your chrome browser to see if the word "German" is present in the current job description.
In case you do not find the word "German", then you are all good and can apply to the job immediately.
If you find the word, then it will probably be telling you about the German language proficiency needed for the job.
In this case, it is better to just skip the job and move to the next one.
Repeat this for each of these job posts and apply to the ones that satisfies your requirements.
Summing it Up
I penned this post mainly because I used to get this question asked several times a day on LinkedIn.
How can I find English speaking jobs in Germany?
If you read the whole post and understood the process that I personally followed during my job hunting days, then you will realize that the process is simple.
You just have to be consistent and spend some time making connections or searching for the relevant jobs.
There is no quick tips or hacks to find english speaking jobs in Germany.
I hope this post helps you get your dream job in Germany.
Feel free to share your feedback and also let me know if you have figured out another way of finding English-speaking jobs in Germany that is not covered here?