Before you apply for a German job seeker visa, it is important to understand the list of documents needed.
Below is a copy of the original job seeker visa checklist provided by the consulate of Germany in India.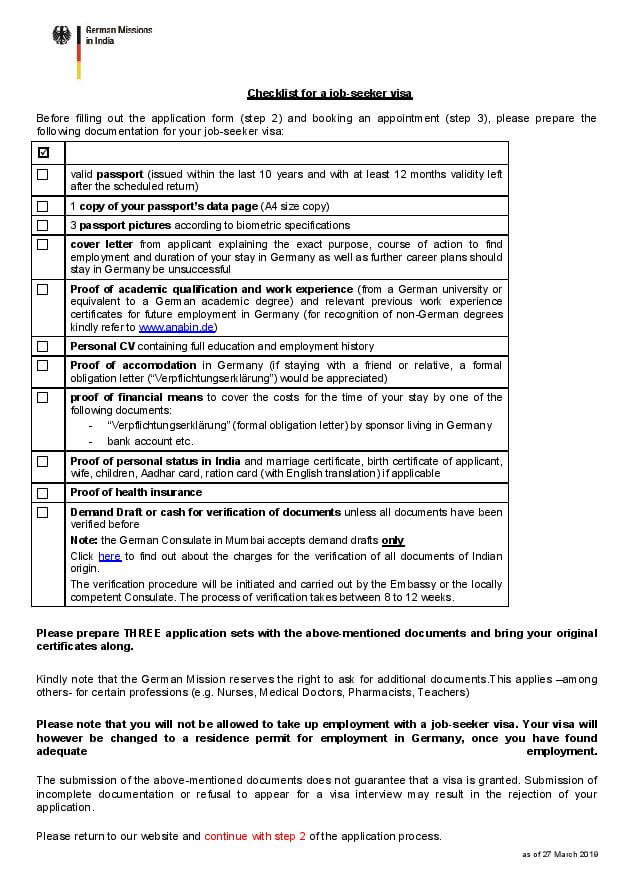 Let's go through each of these checklist items and understand what exactly is needed and also if there is anything special to be considered.
1. Valid Passport
valid passport (issued within the last 10 years and with at least 12 months validity left after the scheduled return)
As the statement says, the passport should not be older than 10 years.
It should have around 2 years of validity pending so that once you return from your German job seeker visa i.e. max after 6 months, there are still 12+ months of validity available on your passport.
e.g.: if your travel date to Germany is 01.01.2024, then your passport should have a "Valid Upto" date of later than 01.06.2025
2. Passport's data page
1 copy of your passport's data page (A4 size copy)
A data page on a passport is the page where the visa stamping happens.
Take a copy of all the pages where there is a visa stamping or stamps that denote your travel dates.
If the data page on your passport is empty or blank, just take a copy of the first page on an A4 size sheet of paper and present it during your German job seeker visa appointment.
If you have multiple visa stamps on your passport, do not forget to have a copy of each of those data pages separately.
3. Passport-size pictures for German job seeker visa
3 passport pictures according to biometric specifications
It is important to have some recent passport-size pictures clicked as per the biometric specifications.
Ideally, you should keep with you anywhere between 4 to 6 pictures from the same set for the visa process.

You can read more about the biometric specifications for the passport picture here.
Expert advice: Keep 8-10 pictures with you. It will be useful for converting your German job seeker visa to a Blue card or Residence permit once you get a job in Germany.
4. Cover letter for German job seeker visa
cover letter from the applicant explaining the exact purpose, course of action to find employment, and duration of your stay in Germany as well as further career plans should stay in Germany be unsuccessful
As stated in the checklist, a good cover letter must contain the following:
4.1 The exact purpose
The main purpose of applying for a job seeker visa is of course to travel to Germany and find a job there.
You have to be more specific in this case while writing a cover letter.
E.g. My plan is to apply for Python developer jobs, especially in the emerging startup ecosystem of Berlin.
If you make your plan clear and concise, the probability of you getting a job seeker visa increases a lot.
4.2 The course of action
Try to be concise and to the point while explaining the course of action.
E.g. There are 3 interviews that are scheduled for me in the first week of March and I will be attending those.
After the first week, the plan is to apply to more Python developer jobs in Berlin and attend the interviews.
I have also subscribed to the LinkedIn premium plan and will be connecting with recruiters.
Always be specific about your course of action once you land in Germany.
Apart from the exact purpose and the course of action, the cover letter should have a crisp and precise introduction of yourself.
You can create a free professional German standard cover letter using the Europass service.
5. Proof of academic qualification and work experience
Proof of academic qualification and work experience (from a German university or equivalent to a German academic degree) and relevant previous work experience certificates for future employment in Germany (for recognition of non-German degrees. Kindly refer to www.anabin.de)
5.1 Proof of academic qualification
While applying for a German job seeker visa, one of the main criteria is to have a Degree certificate that is recognized by the German authorities.
You can visit the Anabin website and search for the university from where you graduated.
Go to the Search tab of the Anabin website and select the country and city of your university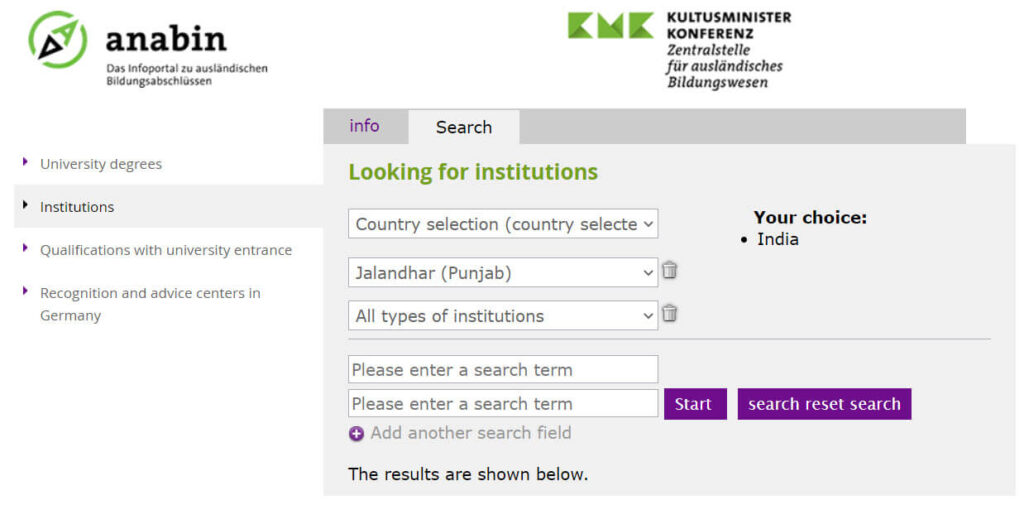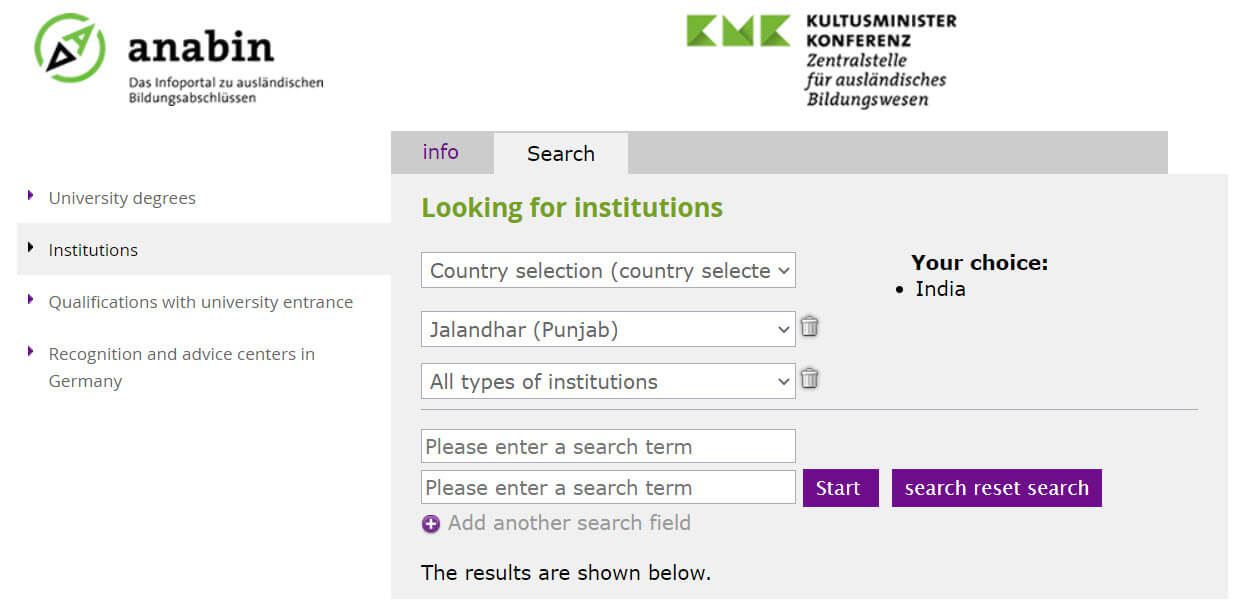 Click on search and you should see the name of your university displayed in the list.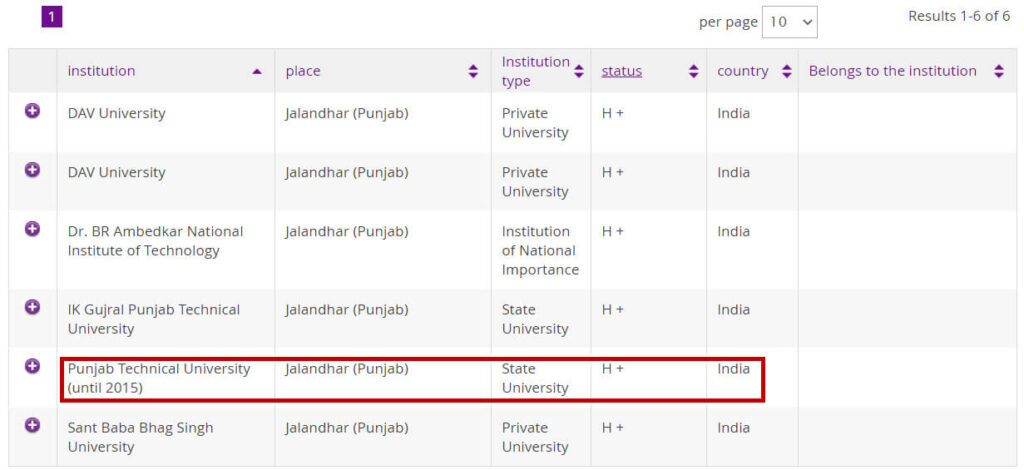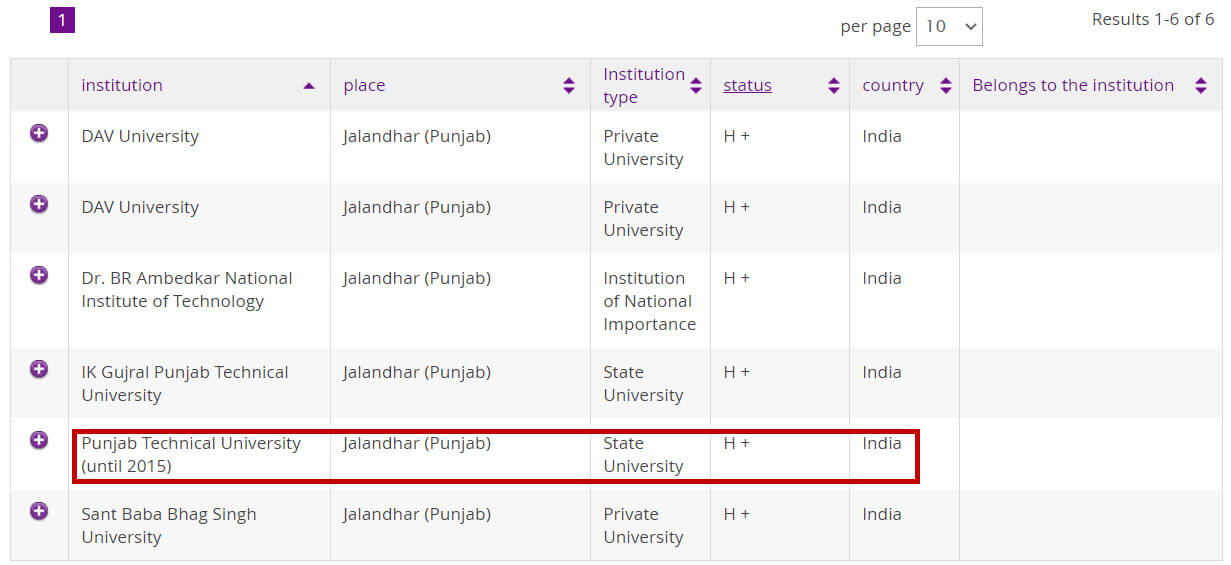 If the status is H+ then your degree is recognized and you are all good.
If your university is not listed on the website as H+, then you might want to discuss the situation with the embassy or the consulate to take further action.
5.2 Relevant previous work experience certificates
This basically includes all your appointment letters and relieving letters from your previous companies where you worked in the past years.
It is important to have all the past work experience documents in continuation.
If there was a gap in your employment, be ready with a proper justification and any supporting document for the same.
6. Personal CV for German job seeker visa
Create your German-format CV with all the latest information regarding your work experience.
You can visit the Europass website and create a European-standard CV there.
Do you have further questions?
Join our community of job seekers and experts from Germany. You can ask your doubts and get expert advice on topics related to getting a job in Germany and several other related topics.
The key here is to have all the information as accurate as possible.
Have exact dates and job titles as per your employment documents.
7. Proof of accommodation
Proof of accommodation in Germany (if staying with a friend or relative, a formal obligation letter ("Verpflichtungserklärung") would be appreciated)
While applying for a German job seeker visa, it is important to have proof of accommodation.
If you are planning to stay with a friend of yours in Germany, get this letter called "Verpflichtungserklärung" from them.
If you do not intend to stay with a friend or a contact in Germany, then you can also book a temporary stay e.g. a hostel room or an Airbnb, and provide those details.
Some other websites that you could use for finding a temporary stay are www.housinganywhere.com and www.hostelworld.com
In case you are booking a temporary stay in a hotel or Airbnb, then make sure that you have to find a long-term stay within a week or two so that you can do the local registration.
Registering your local address is mandatory in Germany and the same can not be done if you stay in a hotel.
8. Proof of financial means
Proof of financial means to cover the costs for the time of your stay by one of the following documents:
– "Verpflichtungserklärung" (formal obligation letter) by sponsor living in Germany
– bank account etc.
To prove that you are financially backed up, there is a requirement to show your past 6 month's bank statement.
Your bank account should have a minimum of Rs.6 lakhs in it at least 60 days before the Jobseeker visa interview date.
So, it is very important to plan at least 6 months before you apply for a jobseeker visa so that you have a clean bank account statement.
You could also show a blocked account with EUR 5604 in it (as of Sept 2023).
9. Proof of personal status in India
Birth certificate of applicant, Aadhar card (with English translation) if applicable.
Be ready with all the documents mentioned in this checklist (whichever is applicable).
Make sure that the name on your Aadhar card matches exactly with the name on your Passport.
If there is any kind of mismatch in the name, make sure that you take the necessary action to update it before applying for the visa.
10. Proof of health insurance
As per the latest JSV rules, one of the following conditions should be met for the Health insurance part:
Proof of private German health insurance that starts from your tentative travel date
Proof of public German health insurance that starts from your tentative travel date
Proof of a private Foreign (Indian) health insurance that starts from your tentative travel date
You should buy one of the above three health insurances and make sure that the following conditions are met:
No limit to the reimbursement in case of sickness.
If the insured person becomes sick, no deductible higher than 300 € per year can be demanded.
Preexisting conditions must be included.
No clause for termination regarding the insured person reaching a certain age, change of residence permit, or loss of residence permit.
The Insurance cover cannot have any time limit (or needs to be automatically renewed)
Some of the recommended insurances that satisfy the above conditions are:
Please note: I am not a certified insurance agent and the above suggestions are purely based on what other GIC community members took in the past for their JSV application and what worked for them. Please do your own research before purchasing any of the above recommendations.
11. Demand Draft or cash for verification of documents
Demand Draft or cash for verification of documents unless all documents have been verified before
Note: the German Consulate in Mumbai accepts demand drafts only
Click here to find out about the charges for the verification of all documents of Indian origin.
The verification procedure will be initiated and carried out by the Embassy or the locally competent Consulate. The process of verification takes between 8 to 12 weeks.
Check with the consulate once about the exact Demand Draft amount in Indian rupees and prepare a DD accordingly.
Do not prepare a DD more than a week before your jobseeker visa appointment date.
Prepare a DD only from the approved list of Nationalized banks of India to avoid any issues at a later stage.
Read more about the Demand Draft amount and the necessary forms here.
---
Finally, you have to prepare three identical sets of all the documents mentioned above and bring them on the day of your German job seeker visa interview.
If you prepare all the documents as per the checklist and your interview also goes well, then there is a 90% chance that you will get an approved visa in a week or two (it depends on the consulate).
There is still a 10% chance that your visa might get rejected because of one or the other reason.
In case your visa is rejected, you will get an email from the consulate within 45-50 days with information about the reason for the rejection.
So, make sure that you have a backup plan when you decide to apply for a German job seeker visa.
I wish you good luck and I hope that the information provided in the post will help you gather all the required documents before applying for your visa.
If you think I missed any information or if you have further questions or feedback, please feel free to comment below.