Wondering how much is the mechanical engineer's salary in Germany? Let me walk you through the details.
One of the most popular jobs you can get in Germany is as a Mechanical Engineer. They are among the top-paid and most respected workers in the country.
Mechanical engineering is the application of the principles and problem-solving techniques of engineering for any object. Mechanical engineers analyze their work and ensure that designs function safely and efficiently.
The average salary of Mechanical Engineers based on years of experience
A mechanical engineer's earnings depend on their qualifications as well as their experience. As an intern who is fresh out of college, you can expect an average pay of EUR 59037 (INR 49.5 Lakh) per year.
The minimum salary a mechanical engineer can expect is around EUR 49,000 (INR 41.7 Lakh) per year. This would normally be for entry-level mechanical engineers.
The average salary for a mechanical engineer in Germany is EUR 67,000 (INR 56.2 Lakh) per year. This is usually for engineers once they have a few more years of experience under their belt.
A senior mechanical engineer can earn as much as EUR 103,000 (INR 86.5 Lakh) per year.
Mechanical Engineer Salary in Germany according to City
Salaries for mechanical engineers vary across different cities in Germany. Some of the top cities are Munich, Frankfurt, and Cologne.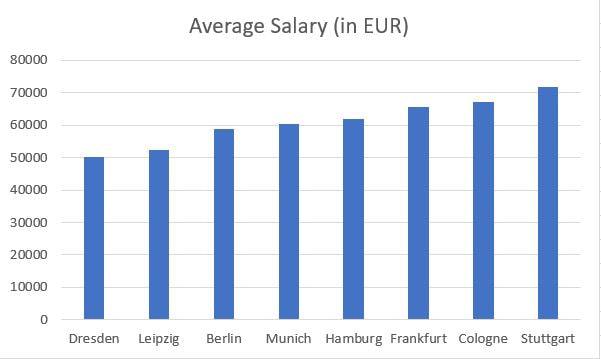 | German City | Average annual salary (In EUR) |
| --- | --- |
| Dresden | 52,389 |
| Leipzig | 55,083 |
| Berlin | 58,900 |
| Munich | 61,826 |
| Hamburg | 65,000 |
| Frankfurt | 62,968 |
| Cologne | 68,796 |
| Stuttgart | 70,000 |
On average, you will earn more in western Germany than in eastern Germany. However, the cost of living is a bit lower in eastern Germany.
Indian Graduate versus German Graduate
An article was recently published by the German newspaper WELT, which talks about the salary difference regarding international labor working in Germany.
According to the research, Indians earn approximately 1,300 euros more than Germans on average in Germany.
Indian engineers have very good job prospects in Germany.
If you wish to see whether your university is recognized by German authorities, then you can go to the Anabin website. If its status is H+, then you do not have to worry about it qualifying for German jobs.
Update: Recently, we have observed that the Consulate of Germany in Mumbai is asking for the ZAB certificate. This is a paid service to ensure that your degree is comparable to a degree in Germany. Please contact your nearest VFS global office or German consulate for more information.
The German Language
You may be wondering whether you will need to be proficient in German to get a Mechanical engineering job in Germany. Honestly, this depends on the company you wish to join.
As a general idea, the larger the company and the bigger the industrial size of the city that it operates in, the less German proficiency you will be required to have. Some examples are Munich and Frankfurt.
However, if you work in a smaller company or in a non-industrial area, then your German will have to be a lot better.
Do you have further questions?
Join our community of job seekers and experts from Germany. You can ask your doubts and get expert advice on topics related to getting a job in Germany and several other related topics.
Most companies that hire Indian engineers will not give work that requires you to be fluent in German. Also, most of your German co-workers will be able to speak English passably well.
Having said that, you should have enough knowledge of German so that the language barrier does not cause any undue stress. It will make communication easier and help you be more efficient at your job.
Salaries in top German companies for Mechanical Engineers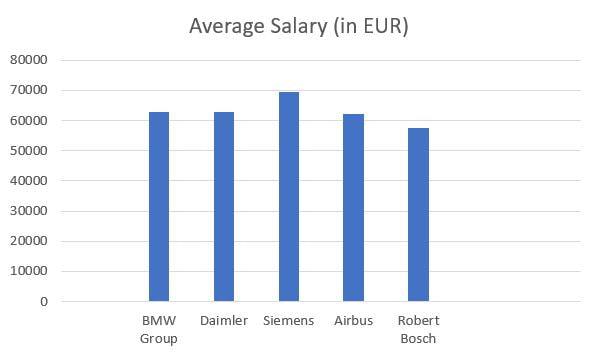 BMW Group
The BMW Group is one of the world's leading manufacturers of automobiles and motorcycles. In addition, they are also a provider of financial and mobility services.
According to Glassdoor, the average salary of a mechanical engineer is EUR 63,000 (INR 53.6 Lakh) per year. Also, with additional bonuses, you can expect to make an annual salary of EUR 65,000 (INR 55.3 Lakh) on average.
You can also get an annual salary of as much as EUR 1,49,400 (INR 1.3 Crore).
As an intern, you would earn about EUR 1,380 (INR 1.2 Lakh) per month.
Daimler
Daimler is a multinational automotive corporation based in Germany. It is one of the world's leading car and truck manufacturers.
The average annual salary of a mechanical engineer is EUR 63,020 (INR 53.6 Lakh) according to Glassdoor data.
The lowest range salary you can get is EUR 40,000 (INR 34 Lakh). However, you can also get a high salary of as much as EUR 1,10,750 (INR 94.1 Lakh) at this company.
Siemens
Siemens is a multinational conglomerate corporation headquartered in Munich. Also, it is the largest industrial manufacturing company in Europe with branch offices abroad.
A mechanical engineer here makes about EUR 69,600 (INR 59.2 Lakh) per year on average. In addition, the salary can range from EUR 51,780-EUR 1,28,600 (INR 44 Lakh-INR 1.1 Crore) per year.
Airbus
Airbus is a European multinational aerospace corporation that designs, manufactures, and sells aerospace products worldwide. Their name is synonymous with the manufacture of aircraft globally.
The average annual salary of a mechanical engineer here would be around EUR 62,120 (INR 52.8 Lakh) per year. This can also range between EUR 36,400-EUR 81,980 (INR 31 Lakh-INR 70 Lakh) per year.
Robert Bosch
Finally, we have Robert Bosch, which is a multinational engineering and technology company that is based in Gerlingen. Certainly, it is an organization with a stellar reputation, having been founded in 1886.
The average salary a mechanical engineer can earn here is EUR 57,430 (INR 48.8 Lakh) on a yearly basis. This can also be anywhere between EUR 25,000-EUR 100,000 (INR 21.3 Lakh-INR 85 Lakh) per year.
---
In general, Mechanical engineers are in great demand throughout Germany and Indian mechanical engineers can earn the highest possible salaries in their field if they plan to move to Germany.
Apart from the salary aspect, Germany is also a hub of core mechanical companies and carmakers. So, the opportunities are enormous.
If you wish to move to Germany and have questions about the entire visa process or need suggestions on curating your Resume / CV or if you have any other doubts, then visit our getting started page here.
Thanks for reading and good luck!