Over 3500 Twitter employees lost their job in November 2022. Another 10,000 Meta employees got laid off in the same month.
These layoffs made headlines in the recent past mainly because these were mass layoffs and the companies who reduced their workforce are top tech companies of the world.
At the same time, there were thousands of people in Germany who got laid off and didn't make it to the news.
If you were one of them or if you are affected now because of the economic downturn or the anticipated recession, then this guide is for you.
In general, this guide is specifically for someone who is in Germany and who lost their job due to XYZ reason.
My intention is to help you overcome the trauma of a layoff and guide you through the steps to bounce back and get a better-paying job within the next few weeks or months.
So, let's get started!
1. When you hear the news
Most of the time, the news of layoff comes as a surprise.
There is not much you can do to prepare yourself at this stage.
Having said that, there are a few suggestions to digest the news and bounce back.
1.1. Do not react immediately
As soon as you get to know that you lost your job, there will be a tendency to react immediately and backlash on the employer, the HR, your manager, and everyone else.
This won't help you at all.
You have to understand that your employer took the hard decision of letting you go. It is not an easy job for the employer either.
Try to think of the options that your employer had by putting yourself in their shoes.
As soon as you try this exercise, you will realize that the employer had no choice other than reducing the workforce to keep the company running.
Having said that, I am not trying to justify the act of layoff but trying to help you look at the situation in a positive direction.
Also, if you get angry and react, you will most probably hurt your mental health, and won't help you in any way.
So, my suggestion would be to take your time, digest the news, discuss it with your spouse/family members/friends you trust, and reduce the burden on yourself.
1.2. Negotiate the severance if possible
Most likely your employer will grant you a fair severance package and garden leaves.
If that's the case, I would suggest not negotiating as the employer already did the process in a fair and legal manner.
In case you are not satisfied with the severance or the way the employer handled the whole situation, you have the right to negotiate the severance package with your employer.
Most likely, the employer will accept your request if it is fair and not ripping them off.
1.3. Request important documents
Your employer will ideally hand over all the necessary documents on your last day.
In case your employer doesn't provide one of these documents, make sure to explicitly ask for it.
The documents you need from your employer are:
Your last 6-12 months' payslips
Experience letter or recommendation letter (Signed and stamped)
Meldebescheinigung zur Sozialversicherung (Social security contribution document)
Ausdruck der elektronischen Lohnsteuerbescheinigung (Electronic wage tax statement)
These documents are necessary for tax filing, applying for a new apartment, applying for a new job, etc.
Make sure that you get all the above documents before you lose access to emails and official chat applications.
1.4. Register as a Jobseeker
This is among the most important steps that you must do as soon as you hear about the layoff news.
You should register on the official website and visit the URL – https://www.arbeitsagentur.de/arbeitslos-melden/ to update your status as a Jobseeker.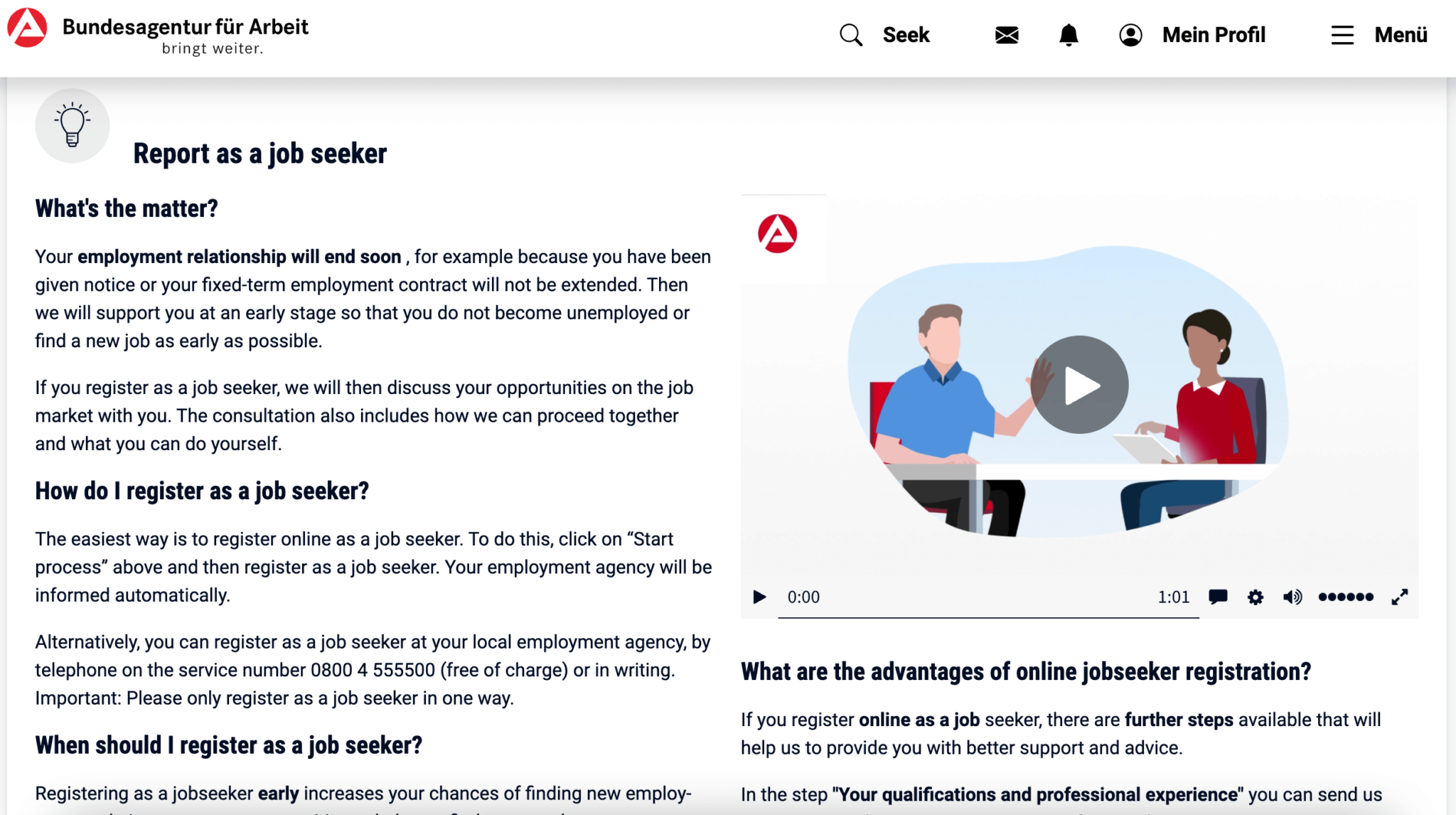 Click on the Start Process button and go through the steps to finish the process of declaring yourself as a Jobseeker.

Once you have completed the process, you will be given the option to schedule an appointment with an official to discuss the job search and the next steps.
Usually, appointments are not available in cities like Berlin.
You don't have to worry if you don't find an appointment immediately. You should receive a letter with details of your contact person and an appointment date via post in a couple of weeks.
Pro Tip: Use Google chrome's Translate feature to translate the website to English.

Sometimes a form submit doesn't work when you translate a page. So, you can revert to German before submitting the form.
This step of registering yourself as a Jobseeker is really important and should be done within 3 days of your layoff news.
2. The first week after the layoff
By now, you must have already requested all the required documents and registered yourself as a job seeker.
Now, it's time to take a step back and list down the things that you should be doing in the next 4-8 weeks.
Pro tip: Create an excel sheet that lists the activities that you want to perform in the next 4-8 weeks.
The priorities and the items that you will list for the next weeks completely depend on your visa status and how fast you want to get your next job.
Some people prefer taking it a bit casual so that they can use the first 1-2 weeks to relax and maybe also to go on a short vacation.
Do you have further questions?
Join our community of job seekers and experts from Germany. You can ask your doubts and get expert advice on topics related to getting a job in Germany and several other related topics.
Others prefer searching for a job starting day one and they aim to get a job as soon as possible.
There is no right or wrong way of approaching the situation. So, I would suggest deciding the next steps based on your individual preference, circumstances, and visa status.
2.1. If you are a Blue card holder
If you lost your job while you were on a Blue card, you might be in one of the two scenarios:
a) You have completed 2 years on a Blue card
If you have already completed 2 years on a Blue card, you should be eligible for unemployment benefits starting 1st day of your unemployment.
Make sure that you register yourself as unemployed before the unemployment start date to avoid any issues later.
You will have around 6 months from the date of unemployment to find a new job. During this period, you will receive unemployment benefits from the government.
Note: Please consult a visa expert to get accurate information on these rules and regulations.
b) You haven't completed 2 years on a Blue card
If you haven't completed two years on a Blue card, you will have about 3 months from the date of unemployment before your visa expires.
In this case, it might make sense to start your job search as soon as possible and plan your break or vacation once you get a job.
Note: Please consult a visa expert to get accurate information on these rules and regulations.
2.2. If you are not holding a Blue card yet
This is a tricky situation when you are eligible for a Blue card but you haven't got one because your Blue card appointment is in the future.
In this case, my suggestion would be to contact your Ausländerbehörde and get accurate information from them.
My guess would be that a person who is eligible for a Blue card but hasn't got a card yet should be treated the same way as a Blue card holder.
Again, this is just an assumption and I strongly suggest scheduling an appointment with the officials at Ausländerbehörde in your city and getting this clarified.
2.3. If you are a PR holder
If you hold a PR (Niederlassungserlaubnis) in Germany, you do not have to worry a lot.
You can start your job search casually and take a break before your actual job search starts.
Pro tip: If not a PR holder but are eligible, be sure to apply for a PR as soon as you find a new job. Here is how to apply for a PR in Germany.
The process of declaring job loss (unemployment) remains the same as in the case of a Blue card holder.
The only difference is that you do not have to find a job in 3 or 6 months to continue to stay in Germany.
As a PR holder, you can continue to stay in Germany even without a job and you will be eligible for unemployment benefits for up to 1 year.
Here is a detailed blog post explaining the unemployment benefits for various types of visa holders.
3. Bounce back from Layoff
Once you have registered yourself as a job seeker, it's your time to prepare for the next career opportunity.
3.1 Things to do before applying to jobs
Before you start applying for jobs, make sure you do the following:
Update your CV and make sure that the CV looks perfect. You can visit our free resources page to prepare a stunning CV.
Update your LinkedIn profile to reflect your latest experience and skillset.
Update your LinkedIn profile headline to appear in the search results.
Opt for LinkedIn premium (The first month is usually free).
Set the Open to work badge on your profile if you are fine doing so.
Once you have done the above, you can gradually start applying for jobs on LinkedIn.
3.2 How to apply for jobs?
When you are unemployed, it might be tempting to just apply to all the jobs at once and get frustrated when you do not hear back from the recruiters.
There is a way to remain organized and apply for the right jobs on LinkedIn.
Here is a guide on how to properly research and apply for jobs on LinkedIn.
Once you follow the above guidelines and repeat the process for a week or so, you will start receiving responses from recruiters and hiring managers.
Pro tip: Be aware that you might not get any feedback for upto two weeks. That's normal in Germany and you should not stop trying and shouldn't lose your motivation.
Make sure to not schedule more than 4 interviews in a day so that you have enough time each day to upskill yourself.
As you might have already subscribed to the LinkedIn premium subscription, I strongly recommend using the LinkedIn learning platform that comes along with the premium subscription.
You can choose a specific topic and upskill yourself in that topic using LinkedIn Learning. You can also showcase your skill badge on LinkedIn once you complete the course.
Conclusion
Losing your job is a very stressful situation to be in.
But, if you train your mind and stay organized, you can quickly digest the news and bounce back.
Remember 90% of the time, you will land a job that's more rewarding and satisfying than your last job.
Great things happen to those who don't stop believing, trying, learning, and being grateful.

Roy T. Bennett
So, stay focused, stay motivated and everything else will fall in place.
Good luck!
Disclaimer
Please note that I am not an official who can guide you on the topic of unemployment and visa-related queries. All the information that I have shared in this post is obtained from my personal experience or by talking to a friend/colleague who experienced the situation. I shall not be held responsible for any decision you make based on the information shared in this post. If you have a different opinion or feedback to share, please feel free and I will be happy to update the content accordingly.
---
Interested in discussing the above topic in detail? Schedule a 30-minute 1-1 session with Anoop here.