Finding jobs in Germany for foreigners is one of the toughest tasks especially if you are not in Germany and do not speak German.
Whether you are in Germany or in a country like India, Pakistan, or the US, it is important to understand the best ways to apply for jobs in Germany as a foreigner.
In this guide, I will walk you through the steps I followed to find a job in Germany as a foreigner with no knowledge of the German language at all.
Looking for English-speaking jobs in Germany for foreigners? Read this post instead.
Let's get started with the steps:
Step 1: Identify the right job platform
It is very important that you identify the right platform to start your job search.
This will ensure that all your efforts are channelized in one direction and on one or a maximum of two job platforms.
My personal recommendation is LinkedIn. You can also have a look at all the other job platforms recommended by our GIC community members.
Note: If you are a GIC+ member, you will have access to 100s of visa sponsored jobs updated on a daily basis. To gain access to these jobs, subscribe to the GIC+ lifetime membership here.
One of the main criteria while identifying the best job platform is to look at the number of jobs posted each day and the quality of these job posts.
Also, jobs posted on LinkedIn are usually in English and are intended for international audiences.
On the other hand, platforms like Xing are mainly focused on the German audience.
Another reason why I prefer LinkedIn over other job search platforms is because of the search filters.
You can easily narrow down your job search and focus only on the relevant jobs using these filters.
I will walk you through the exact steps of performing a search on LinkedIn, using the filters, and narrowing down your search to best match your requirements in the next steps.
Step 2: Identify the right keyword
It goes without saying that you should search for the right keyword when you are looking for a job on a platform like LinkedIn.
How would you ensure that the keywords you are using are the perfect ones?
Let me help you here.
Let's take an example of a python developer who is looking for a job in Germany from India.
What should he search on LinkedIn?
Do you have further questions?
Join our community of job seekers and experts from Germany. You can ask your doubts and get expert advice on topics related to getting a job in Germany and several other related topics.
Here are some of the example keywords for this scenario:
Python developer
Python
Python engineer
Senior python developer
Junior python developer
Python team lead
These are some of the keywords that you can use when it comes to skills like python.
What happens when you want to search for a job role and not a skill?
Let's take another example of a project manager who is willing to move to Germany from India.
Some of the keywords he should use while searching is:
Project manager
Junior project manager
Senior project manager
In this example, you are searching for a job role and not a particular skill.
So, before you start with the job search, make sure that you have identified all the relevant keywords for your role, skills, etc, and make a note of it.
Let's jump to the next step which is to perform the job search on LinkedIn.
Step 3: Search jobs in Germany for foreigners
There are several sub-steps to this one. Let's go through them one by one.
3.1: Perform a simple job search on LinkedIn
Start with the simple approach by visiting the LinkedIn job search page.
Enter the keyword that we identified in the previous step. Use one keyword at a time.
Switch to the locations field and enter/select Germany.
Note: You may also enter a city instead of a country. E.g: You can select Berlin instead of Germany to narrow your job search and limit it to just Berlin.
Once you do the above, you will see that LinkedIn gives back a list of results that matches your search query (keyword).
3.2: Narrow the search by using filters
Now that you have a list of over 100 jobs that matches your keyword, it is time to filter them further.
Let's first look at the various filters available on LinkedIn:

Jobs

: This is the default selection when we are searching for jobs. This should not be changed in our case.

Date Posted

: This is a very effective filter and very useful too. We will see how we can use this filter to our benefit and find Jobs in Germany for foreigners.

Experience level

: I usually avoid using this filter so that I don't miss out on any relevant opportunity just because it doesn't fall in the right experience level.

Company

: This filter is very useful if you want to have a visa sponsorship. We will get to this at a later stage in this post.

Job Type

: I believe you would be interested mainly in a Full-time job. So, we will keep that as the default selection for our job search.

On-Site/Remote

: As long as you do not have a strict preference here, you should ideally leave this blank.

Easy Apply

: I will keep this unchecked as well to ensure that all the relevant jobs are listed.

All Filters

: Inside this, you will find all the filters we talked about and some additional filters. I would suggest not making any changes here.
When you are just starting your job search, I would suggest keeping the "Date Posted" filter as "Past week".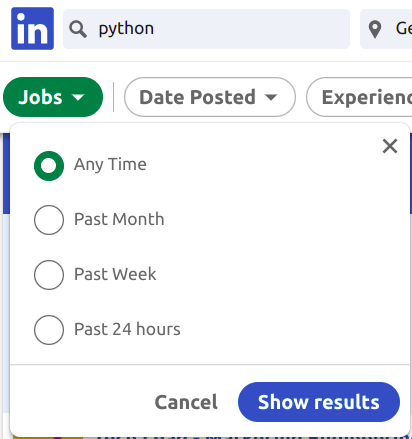 If you select "Past Month", you will see all the jobs that were posted in the last 30 days or so.
This won't be ideal mainly because the older jobs will probably have 100s of applicants already.
They might have progressed to the last rounds of interviews in these companies and your chance of getting these jobs is very less.
So, it's better to focus on the most recently posted jobs. I.e "Past week".
Note: Once you apply to all the jobs that were posted in the past week, I would suggest to change the filter to "Past 24 hours" and apply to jobs on a daily basis at the same time everyday.
The next filter I would suggest you use is the "Company" filter.
Using the Company filter on LinkedIn
You can effectively use this filter if you have a list of companies that are known for visa sponsorship.
Some examples are Delivery Hero, Zalando, etc.
If you are a GIC+ member, you will gain access to a long list of companies in Europe with visa sponsorship.
Step 4: Apply to relevant search results
Now that you have filtered the search results, it's time to apply to the jobs.
At this stage, I usually recommend applying for all the job results.
As a foreigner, your highest priority is to get the first round of interviews scheduled with a few companies.
If you are not eligible for a particular job, the ATS or the HR reviewing the application will send you a rejected email.
Note: Never get disappointed when you get rejection emails. This is part of the job search journey in Germany.
Step 5: Upskill and repeat
Make a daily goal of reading a relevant article, book, blog post, or watching video related to your domain.
This habit of daily upskilling yourself is very important to stay relevant in the ever-changing world of technology.
One of the ways I did it in the past was to subscribe to the monthly LinkedIn premium subscription.
You will gain access to the LinkedIn learning platform and several job insights as part of the premium subscription.
Here is a video tutorial on how to use LinkedIn premium features to find Jobs in Germany for foreigners.
When you upskill and repeat the job application process every day, you will basically benefit from the compounding effect.
How to repeat the job search process on LinkedIn?
As mentioned earlier, repeat the job search each day and apply to all the jobs in the search result.
You can also save your job search as an alert on LinkedIn.
Saving the job search as an alert has two main benefits:
It sends out an email with a daily summary of the job search results. You will be reminded every day.
It saves your search query and filters for future use. You don't have to set the filters every time.
Once you start following the steps mentioned above and continue it for a week, you will start hearing back from the employers.
Most of the time it will be negative news but very few of them will be positive.
In those positive emails, they will request you to share your availability for the first round of interviews.
Conclusion
Getting a job in Germany as a foreigner is not an easy task.
At the same time, it is not impossible either.
Several GIC members found a job in Germany from India in the last 6 months.
If you have the right mindset, dedication, and focus, you can get there pretty soon.
Finally, the steps I mentioned above are the ones that I personally followed during my job search phase.
It might work for some but may not work for others.
My suggestion would be to give this a try and optimize it over time. You will finally get your dream job in Germany as a Foreigner.
Good luck!
---