The thought of moving to a new country could be daunting.
I understand that feeling as I was in the same situation a couple of years ago.
First of all, congratulations if you've already found a job in Germany. If not, check out my post on 4 proven ways to find a job in Germany.
Let's jump straight into the checklist for moving to Germany from India.
Note: Even though this blog post is focused on the checklist for moving to Germany from India, readers from other parts of the world can also benefit from it.
Money required for moving to Germany from India
The monetary requirements vary based on the type of visa you are applying for.
For a student visa, you need to have a blocked account with a few Lakhs of INR. Whereas for the JSV, you need to show a similar amount but not in a blocked account.
We will be focusing on the third type of visa i.e Employment visa in this blog post.
Let's discuss about the money you should ideally carry in the form of cash, forex card balance, etc.
1. Money to carry as Cash
Even though Germany is a developed country, cash is still a widely used form of money in restaurants, supermarkets, and other places.
So, it is important to carry a good amount of cash with you while you travel to Germany for the first time.
Back in 2018, when I traveled to Germany for the first time, I had around 1000 Euros in cash.
I used this for several immediate expenses in the first month:
To pay for my taxi ride from the airport to the hotel in Germany.
To buy a SIM card from the supermarket and some fruits and snacks.
To pay the deposit amount to the landlord for the apartment.
The first month's rent.
Public transport tickets for the initial days until I bought a pass.
To pay the barbershop.
These were some of the expenses that I can think of.
Of course, most of them can be done via your forex card but actually depends where you are traveling in Germany.
If it is a small town, you might face difficulty using a card for such small transactions.
So, I would suggest carrying approximately 1000 Euros in cash if possible.
2. Money to carry as a Forex card balance
I had around 4000 Euros on my forex card when I moved to Germany back in 2018.
This was more than enough for a single person.
If you are moving with your family (3-4 members), then the amount might not be enough.
Some of the expenses that you will bear using the forex card balance are:
Your first month's rent.
Initial deposit (usually 2 months' rent).
Groceries for the first month.
Travel expenses and public transport pass.
Mobile and internet connection.
Outside food.
Shopping.
Sometimes, the rent needs to be paid in cash. In those cases, you might have to withdraw cash from your forex card and pay the landlord.
As I mentioned earlier, 4000 Euros might not be enough for you if you are traveling with your family.
Here is a post on the cost of living in Germany for an Indian family. You can get some idea about the expenses you might have in the first month.
3. Cash in INR (your local currency)
I did this when I moved to Germany for the first time.
I carried around Rs.5000 with me in the form of cash. There was a reason why I did it.
When you travel back to India say after a year or so, you will need some money e.g at the restaurant or to pay for the taxi or auto.
Even though everything is digitized nowadays in India, I preferred having some money as cash.
This is completely optional and just a personal preference.
Documents required while moving to Germany from India
Since the money part is solved, we can move on to the other most important topic. I.e the list of documents to carry when you travel for the first time.
Let's start with the documents that you need in Original:
Passport with stamped visa
Passport of your dependents with stamped visa (If traveling with dependents)
Travel health insurance document (Usually a printed document)
Signed job contract
Birth certificate of the child (If traveling with your child)
Marriage certificate in English (If traveling with your spouse)
Degree/Graduation certificate in English
Recent passport-size photographs
These were the documents that I carried in original and kept in my cabin baggage.
Need expert advice?
We have a panel of experts who has the experience of moving from India to Germany in the past. They can guide you on the best practices, dos, and don'ts for a first-time traveler like you.
To seek expert advice, you can book a 30-minute 1-1 session with one of our experts.
Now there are a few other documents that you need but you can have them as photocopies:
One copy of all the original documents listed above.
Address of the hotel or apartment where you will stay for the initial days.
Address of your company office.
Emergency contact number and name of the person (if any).
List of miscellaneous items
Now we have covered the important aspects i.e money and the documents, we are good to move ahead with the miscellaneous items.
1. Taxi applications
Just like we use Ola and Uber in India, most German cities have these taxi apps that you can use for a short commute.
You can install Free Now for example and make sure that it is loaded with some minimum amount of money say 50 Euros.
Most German airports have good taxi service and you can easily find a taxi outside of the airport.
So, you can either use the taxi service or opt for Uber or another app-based service for the first-time travel from the airport to your hotel or apartment.
2. Medicines
Back in India, it is very easy to get medicine even without a prescription.
In Germany, it is usually not the case and also, the basic medicines are very expensive without a prescription.
So, my suggestion is to bring the basic medicines like the one for cold, cough, fever, etc, and also specific medicine that you were taking back in India.
Please don't try to bring a lot of them as you might face trouble during the security screening at the airport.
Also, try to get prescriptions for all the medicines that you are carrying. A prescription and bill for these medicines will be helpful if you get caught at the security screening.
3. Backup of all documents on Google drive
I developed a habit of scanning any document that I receive and uploading it to Google drive.
This habit helped me a lot because whenever I need to access a document quickly, I can just get it from Google drive on my phone.
I recommend doing the same with almost all of the documents that you possess.
Also arranging these documents in relevant folders inside Google drive will help you retrieve them easily when you need them.
4. Backup of frequently used documents on WhatsApp
Another hack that I learned from Ankur Warikoo is to create a WhatsApp group and use it as your document store.
This is a great hack when you need to have instant access to some most frequently used documents like your ticket, passport copy, id proof, etc.
Basically, you create a WhatsApp group by adding your spouse or your family member to this group and once the group is created, you can remove them if you wish.
Now, you have a WhatsApp group where the only member is you.
You can also pin this group so that it always stays on the top and is easily accessible on your phone.
You can use this group to upload documents, take important notes, etc.
5. Groceries, spices, and utensils
Nowadays, almost every city and town in Germany has an Indian store.
You can get almost all Indian products in these stores.
The only caveat is that the products sold by these stores are almost always 10 times more expensive than their price in India.
So, it is a good idea to buy some of the basic grocery items including spices, and lentils from India, and bring them to Germany.
This will also help you save some additional money during your first month's stay in Germany.
You can also keep some instant mix products for your initial days.
When I traveled for the first time, these instant mix products helped me a lot as it was very difficult to cook with limited resources during the initial days.
Also, if you are a south Indian, you might want to bring special utensils like the Idli maker.
Bonus tips while moving to Germany from India
Apart from the most important items I mentioned above, there are a few more that I would like to share with you as bonus tips:
1. Clothes
Make sure to carry some season-specific clothes from India as you might want to save some money there once you are in Germany.
2. Anmeldung
If you are moving to Berlin or another big city in Germany, I would suggest booking an appointment for the anmeldung (city registration) even before your travel.
Usually, finding an appointment in these cities takes a lot of time.
3. COVID19 certificates
Carry your COVID 19 vaccination certificates in both Digital and printed format. This is a requirement for your travel
Also, you might want to check the latest travel restrictions and requirements on the official website before you plan your travel.
4. Vaccination record
Carry your medical certificates and vaccination records (if any).
Make sure to carry these documents for your dependents as well.
This is usually very important for your child (if applicable).
5. Book a direct Flight
I always prefer booking a direct flight to the destination when possible.
This is because when I traveled for the first time from India to Germany, I had a layover of 5-6 hours in Istanbul and faced some issues there.
The other challenge was that the announcements were made in their regional language and we were about to miss our flight because of a last-minute change.
So, if possible, book a direct flight from India to Germany.
6. Purchase a local SIM card on day 1
As soon as you land in Germany, you can visit the nearby supermarket and buy a SIM card.
You can activate it online almost on the same day.
Another thing is that most public places, restaurants, and hotels have free WiFi that you can use to make WhatsApp calls to your friends and family in India.
Usually, there is no need to activate an international roaming pack on your existing Indian mobile connection as these roaming packs are very expensive.
7. Install Google Translate App
As you might be already aware, it is difficult to survive in Germany if you do not speak German.
So, as a first step, it is recommended to install the Google Translate app on your phone so that you can translate texts and also images whenever you need them.
You can also use it for translating voice from one language to the other.
I used the instant voice translate functionality a lot when I had to chat with my landlord.
8. Be alert and careful
You must be thinking about why this is part of this blog. Well, this is a personal suggestion.
Most of us might think that Germany is a developed nation and hence, there won't be any crime happening here.
That's not true. Especially when you are an ex-pat and you don't know anything about the country, you must be vigilant all the time.
One of my friends landed in Germany recently and a stranger punched him in the face and snatched his mobile phone.
This happened when he was asking for an address just outside of the Airport in Germany.
I am not trying to scare you but just a warning that you must be alert and careful.
9. Expect culture shock
Germany is a very friendly country in my opinion.
At the same time, the people here are helpful and straightforward.
Don't expect the same level of hospitality that you get back in India. The culture here is totally different.
If you expect the hotel receptionists and helpers to carry your luggage to your room, you will be disappointed.
Similarly, don't be upset if the taxi driver won't help you with the luggage.
These are just a few examples. You can read about all the culture shocks that I faced when I traveled to Germany for the first time here.
Conclusion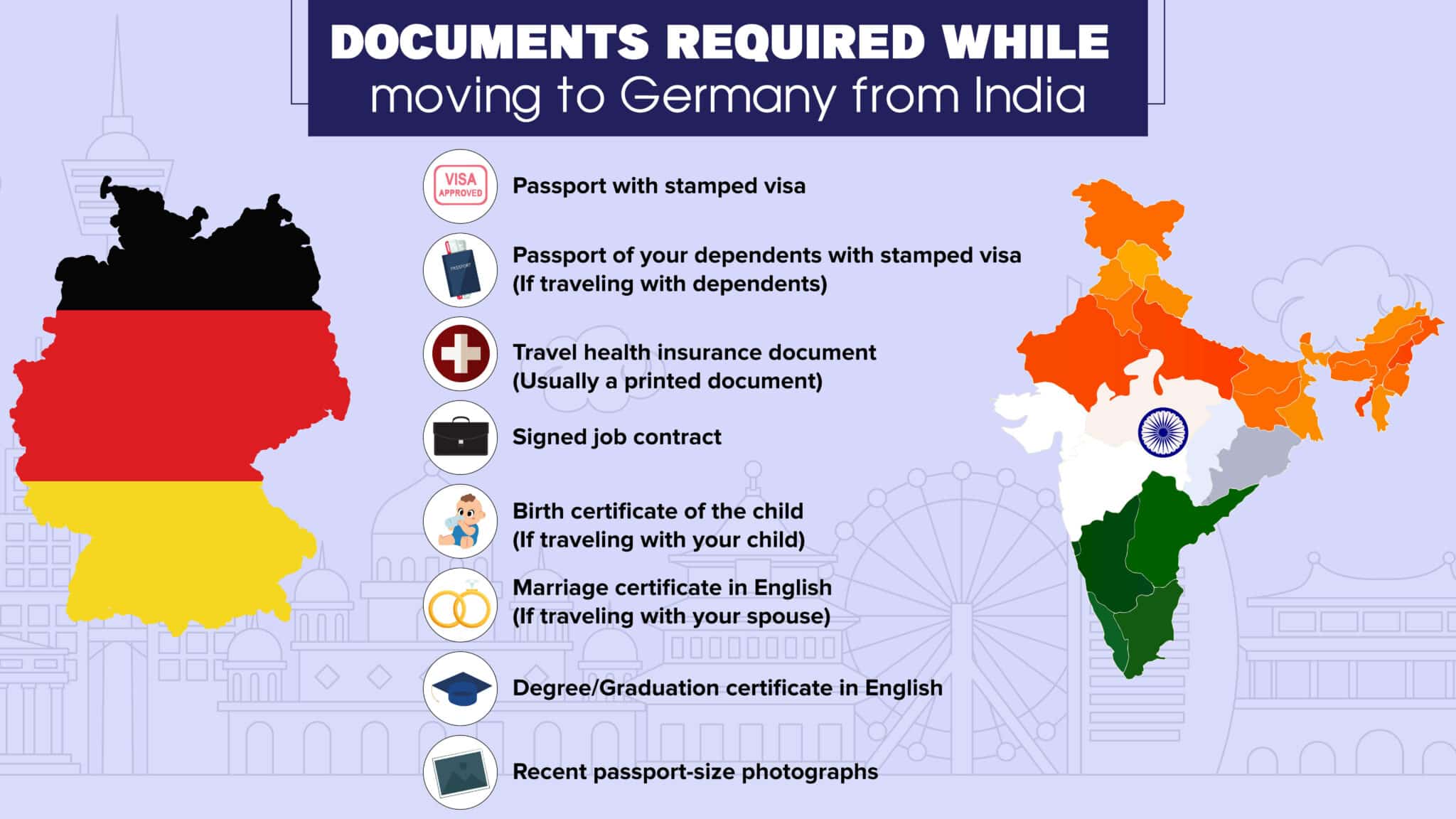 I have covered almost all the important things that I can remember from my experience as a first-time traveler to Germany.
I hope this guide helps you in planning your travel.
Finally, I wanted to make your life easier by sharing a printable pdf version of all the items mentioned in this post so that you can use it as an actual checklist. You can download it below:
Thank you for reading this till the end and I wish you a safe and happy journey to Germany.
---