Congratulations on making the decision to work and settle in Germany with your family.
If you are wondering how you can get a job in Germany while you are still in India, then you might want to read this article first – Jobs in Germany for Indians. 4 proven ways
Continue reading if you have already figured out a way to get a job in Germany from India.
The first thing that comes to mind when you decide to move to a different country is the cost of living.
Germany is one such country where the cost of living varies a lot depending on the city where you are planning to work and live.
The cost of living in a major city like Augsburg is much less as compared to the cost of living in the tech and startup hubs – Munich and Berlin. (source)
In this post, I will try to cover the various metrics that will help you understand the cost of living for an Indian family in Germany.
If you are someone who prefers watching a video over reading a blog post, here is a detailed video for you:
What is the cost of living in Germany for an Indian family?
You are married and have one or two kids and want to travel to Germany with your family?
Let's identify the different items where you will have to spend your monthly income.
I have tried my best to show you the cost of living in Germany in Indian rupees so that you get a rough idea about the actual expenses as soon as you land in Germany.
1. Apartment rent
If you are in India and staying in a city like Delhi, you might be paying around Rs.25,000 – Rs.35,000 for a 2BHK apartment in a good locality.
In Germany, the same will cost you around Rs.1,20,000 – Rs.1,30,000 in cities like Berlin and over Rs. 1.5 Lakhs in cities like Munich (Updated 2023).
Below is a chart that shows the average rent in some of the major cities of Germany in Euros per square meter (Data from 2020).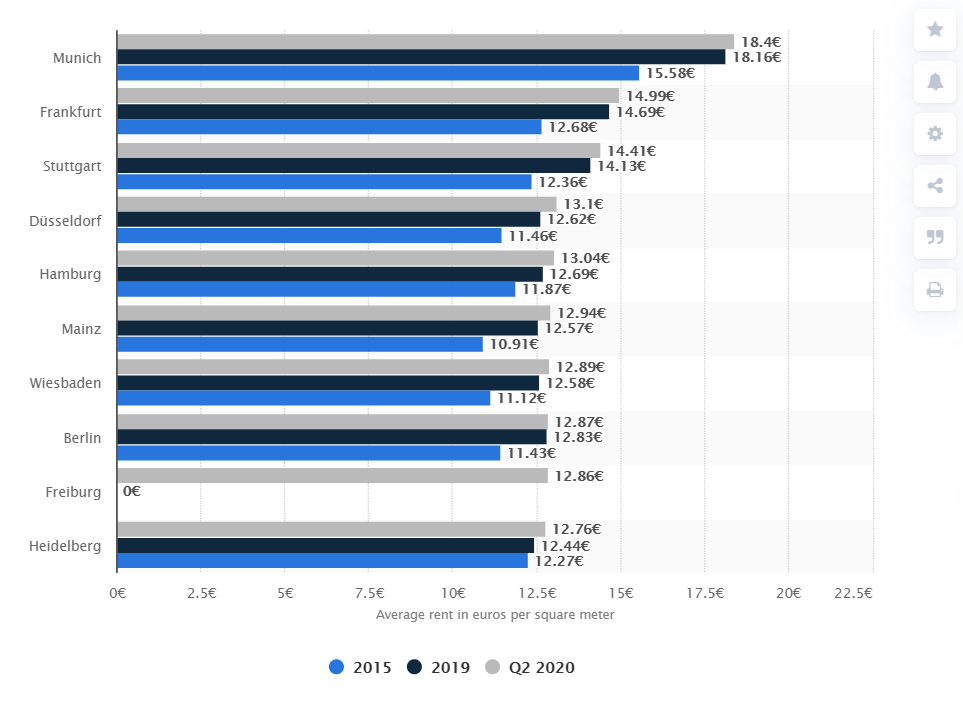 The rent will also include heating charges and maintenance costs.
These are included as part of your monthly rent (known as nebenkosten) and vary based on your usage of the heating equipment and other services.
While we are talking about the monthly rent, it is also important to remember that when you rent an apartment, you are required to pay two months' rent in advance (in general).
This of course varies from city to city.
2. Grocery
Groceries take up a huge portion of your income especially if you want to continue with your Indian food habits.
The local groceries and food items in Germany are moderately priced and comparable to Indian prices.
You can do weekly shopping at discounted supermarkets in Germany like Lidl.
I always prefer buying groceries, vegetables, and fruits from Lidl, which costs around 50 Euros per week. This is equivalent to Rs.4,500 and sounds reasonable.
The expensive part of groceries is when you want to buy an Indian-origin product.
For example, if you are a north Indian and prefer eating chapati two times a day, then you will definitely buy wheat flour from the nearby Indian / Pakistan store.
Don't be surprised if they charge you 10 Euros (Rs.900) for 5 Kg of wheat flour.
In my family, we also prefer eating chapati two times a day and we usually buy 10-15 Kg of wheat flour a month.
Other than wheat flour, we also buy lentils (daal), Pulses, and Indian vegetables like ladyfinger, Bittergourd, etc.
On average, we spend around 100 Euros per month just buying things from the Indian store. This is approximately Rs.9,000 per month.
3. Electricity
In Germany, you get the option to choose your electricity provider.
In general, for a family of 3, the monthly electricity bill could be around 80-120 Euro (Updated 2023) which is approximately Rs.7,000 – Rs.11,000 per month.
Again, it depends a lot on how much you cook at home, and how often you use the washing machine, vacuum cleaner, and other electrical appliances.
In Germany, it is not common to have an Air Conditioner or a ceiling fan.
It is also to be noted that the electricity bill is automatically deducted from your bank account every month.
The amount deducted will be the same each month for the whole year.
For the next year, fresh readings are considered and the monthly bill is adjusted according to your previous year's consumption.
4. Transportation
Germany has a very good public transport system which is reasonably priced.
As soon as you find an apartment to stay in for a longer period in Germany, I would suggest you opt for an annual public transport ticket in your city.
In my city, I have taken a pass that covers my travel starting from 9 am onwards and costs me around 30 Euros (approx. Rs.2,700) per month.
Since this is an annual pass, the money gets deducted automatically from my bank account.
In 2022, Berlin offered reduced prices for their public transportation tickets. You can read more about the 29-euro ticket here.
Do you have further questions?
Join our community of job seekers and experts from Germany. You can ask your doubts and get expert advice on topics related to getting a job in Germany and several other related topics.
You can buy the same pass for your spouse as well and you don't have to worry about tram or bus tickets for the whole year.
If you have kids who are below 14 years of age, then you don't need a separate ticket for them.
You can take up to 4 children below 14 years of age without having a separate ticket for them.
5. Childcare or Kindergarten
Even though higher education and schooling are free in Germany, childcare and Kindergartens aren't.
A monthly fee of around 120 Euros (Rs.10,000) gets deducted for a child who goes to Kindergarten.
Update 2023: In Berlin, I am paying only 33 euros per month towards the Kindergarten fees.
If you are in Berlin and finding it hard to get a Kita spot for your child, then read this step-by-step guide to find a Kita spot in Berlin.
But you don't have to worry because if you apply for Kindergeld, you will receive around 220 Euros per month in your bank account.
In general, you don't have to worry about your child's expenses when you are in Germany. It is usually taken care of by the government itself.
You can apply for a Kindergeld only once you have a valid residence permit in Germany.
You can read more about the eligibility and rules for the Kindergeld here.
6. Mobile and Internet connection
Once you land in Germany, you need a mobile connection to speak to your friends and relatives back in India.
Of course, you can use the hotel internet connection and speak to your family and friends over skype, zoom, or WhatsApp for the initial days.
Getting a phone number in Germany is a bit different and you can easily get a SIM card from any of the nearby Supermarkets.
Once you get the SIM, you can follow the instructions on the packet to activate the SIM.
I am using a provider called Lebara that offers unlimited free calls to India at a monthly fee of 30 Euros (Rs.2,700).
For the internet connection, there are several options like o2, M-net, Vodafone, etc.
I personally prefer and use o2 and they charge around 35 Euros per month for a 100 Mbps connection.
You can easily stream 4k videos on YouTube using this plan and can watch a lot of Indian shows and movies on YouTube.
7. Entertainment
While we are talking about the necessary items, it is also important to mention the cost of entertainment in Germany.
If you wish to continue watching your regional programs, series, daily soaps, or movies, you will have to go for a Netflix, Hotstar, or Amazon Prime subscription.
Even though you subscribe to these platforms, you might not be able to access the content that you were earlier able to access mainly because of the change in your geographical location.
To overcome this problem, you can use a trusted VPN like NordVPN.
Using a VPN, you can access your regional content on the internet by paying a minimal monthly fee.
So, an additional 12-13 Euros per month is what you might end up spending on Entertainment once you are in Germany.
Tax in Germany
I won't cover much about taxes in this article because it needs a lot of description and asks for a separate write-up.
In general, you end up paying around 30% of your gross salary in Germany as tax (for a married person).
So, if your gross salary as per the contract is say 5,000 Euros per month, you will get only 3,500 Euros in hand.
You can use a tool like this to get an idea about the monthly in-hand salary you will receive after all the tax deductions in Germany.
Make sure that you plan all your expenses accordingly to avoid any last-minute surprises.
Average monthly expense for an Indian family of 3
Below is a summary of living expenses in Germany for Indian families. This is a table that I created from my own monthly expense sheet when I lived in Augsburg.
| Item | Expense (EUR) |
| --- | --- |
| Rent | 850 |
| Electricity | 60 |
| Grocery | 160 |
| Indian products | 100 |
| Childcare | 120 |
| Transportation | 60 |
| Shopping | 100 |
| Mobile bill self | 30 |
| Mobile bill spouse | 30 |
| Internet | 35 |
| Entertainment | 13 |
| Radio tax | 20 |
| Salon | 50 |
| Misc | 100 |
| Total | 1728 |
Approximately 1728 Euros or Rs.1.5 lacs per month
Updated the list after I moved to Berlin (2023)
| Item | Expense (EUR) |
| --- | --- |
| Rent | 1500 |
| Electricity | 100 |
| Grocery | 300 |
| Indian products | 100 |
| Childcare | 50 |
| Transportation | 50 |
| Shopping | 150 |
| Mobile bill self | 30 |
| Mobile bill spouse | 10 |
| Internet | 45 |
| Entertainment | 13 |
| Radio tax | 20 |
| Salon | 25 |
| Misc | 100 |
| Total | 2493 |
Approximately 2493 Euros or Rs.2.25 lacs per month
How much is a good salary in Germany?
Unlike India, the salary in Germany doesn't vary a lot for a person with a similar skill set and experience.
Usually, the employer offers you an annual gross salary which you can negotiate a bit.
Ideally, anywhere between 65,000 to 75,000 Euros annual gross is a good salary in Germany for a developer or an IT professional.
If the employer is offering you more, then just go for it.
Salary also varies based on the city where you are going to work. e,g in Munich, a salary of 65,000 Euros might not be enough whereas, in a city like Augsburg, it is considered a good salary.
So, do your own research before accepting a salary offered by the employer.
You can use websites like Glassdoor to check the average salary in a particular city for a specific job or industry.


Finally, it is not always about the cost of living based on which one should be selecting a country for relocation.
There are several factors that should be considered. The most important factor for me was the standard of living.
Germany offers a high standard of living and a very safe environment. An ideal combination that will attract any Indian job seeker.
I hope this article helped you understand the various expenses that you might have to bear once you land in Germany.
Use this information and create a budget plan for the first 2-3 months before moving to Germany.
I wish you good luck and welcome you to this amazing and beautiful country called Germany.
Disclaimer
All the costs I mentioned in this article are from my own personal experience. Please understand that the costs might vary from person to person depending on the city, the lifestyle, the type of school you choose for your kids, the apartment size, etc.
So, please use this article as a guideline, and then feel free to adjust it according to your lifestyle and current monthly expenses.
---